Books I Miss No Longer - Part One
Back in August, I posted a blog about books I'd loved in the past but was either unable to check out of the library anymore or had given away. Well, guess what? With a little help from someone who has a lot more patience and much better internet-searching skills, I now own two of the three books, and have figured out what the missing third one is!

The first book was the story of Hans and his dream of riding the famed Lipizzaner horses. It never crossed my mind to look up well-known authors of horse stories. But it should have, because I would have discovered it a lot sooner. The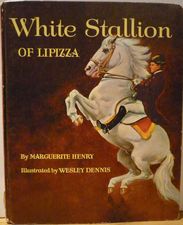 book is called "White Stallion of Lippiza", by Marguerite Henry and illustrated by Wesley Dennis. I haven't heard those names in a very long time, but if I had, I still probably would not have associated them with this book. Marguerite Henry is the author of a very well-known horse story called "Misty of Chincoteague", a book I tried to read as a child - more than once, I believe - and failed. My memory of what I disliked about it was that it was more about the people than the horse, and, as a horse fanatic, I wanted to read about, well, horses!

Oddly enough though, that didn't stop me from enjoying "White Stallion of Lippiza", which is about Hans, not Borina the Lippizan. (And no, it wasn't a mare, it was - duh - a stallion. So much for my great childhood memory!) I have yet to re-read this book, but upon flipping through it I think the difference was that 1) Hans had to overcome a lot in his life to pursue his dream, and 2) Lippizans! My neighbors down the road owned fat, shaggy little pinto ponies like Misty. I'd even ridden them. Yawn. But Lippizans? They're beautiful dream horses, the likes of which I'd never seen in real life: big, and white, and they can do amazing tricks, the names of which I memorized and drew my own pictures of. And I think that was part of the fun. I could take the story and run with it - literally, on all fours as I often did back then! - and be inspired. Isn't that what a book is supposed to do?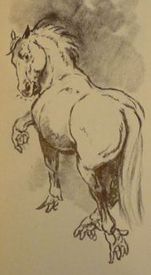 Interestingly, in my research of books by Marguerite Henry, I discovered that while Misty, Stormy, and Pony Penning Day left me bored, she wrote several other horse stories that did not. The story about the race horse in the Kentucky Derby? It was a colt named Black Gold, and the book "Black Gold" is based on his true story. It's not told in first-person from the horse's point of view (I must still be thinking of another book), but everything else about it rings true to memory. Black Gold really did injure his leg in a race, and finished on three legs. That part I remember, as it's the most nail-biting part of the story. This is the book I was thinking of. Found!

Oh, and that pencil drawing of the horse with hands instead of hooves in "White Stallion of Lippiza"? Yep, it's in there. Almost exactly as I remember, and nope, it's not a play on the name "Hans". Nevertheless, it's still a very spooky representation from a dream sequence. Is there any wonder this would stick with an eight-year-old kid? For that matter, it's probably a lot of the reason I never forgot the book. And now you won't either!