Home for the Holidays, Sort of (Or, Pets are Family Too)
I'm supposed to be on a plane right now. I should be somewhere over Kansas, or Nebraska, depending on the flight path. But I'm not. Instead I'm sitting at my desk, while someone waiting on stand-by to go to Las Vegas is celebrating the good fortune of getting a straight-through, non-redeye flight to Sin City. I'm happy for them. If that's their final destination, they're in for a good time. Too bad I couldn't also give them my reservation for a night at the New York New York hotel and casino, and tickets to see Zumanity. But maybe they'd prefer "O" at the Bellagio, so I guess that's just as well.

So, I'm home for the holidays this year. My home, not my parents'. This last-minute decision was one made not because I couldn't afford the trip, or because they don't want me to come. It's a family emergency. And the family member has four legs and fur.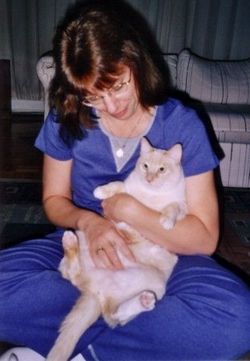 I'd been meaning to write an update on Rascalbear's condition, as a follow-up to this post about him, but a crazy schedule and lack of any real news prevented me from doing so. Now I have an abundance of both time and news. The time is good. The news is not. Rascalbear was diagnosed this week with cancer. "Pulmonary carcinoma with subcutaneous metastasis", to be exact. That's lung cancer that has spread to the muscle tissue of his right hind leg, where I first discovered it. A marble-sized lump, it wasn't noticeable until his renal issue caused him to lose so much weight that it could be felt. (He used to be quite the porker, as you can see.) It's good that it was discovered, but bad that it took so long, because that means the ugly disease has traveled throughout his body and could cause new tumors just about anywhere. I have visions of twisted, little, creepy black tendrils of death twining around under his skin, waiting for something new to grab onto. Ugh.

I know that elderly cats tend to die of one of either two things - renal failure or cancer - but I had only just come to terms with it eventually being renal failure, when *BAM* I find out that no, it might be a race between the two. To top it off, I find it out just three days before leaving town for a week, leaving him alone with only a friend coming by twice a day to clean his litter box, feed him and give him his meds, not including the subcutaneous fluid injection he requires every two days. That was a bit much to ask, and I figured he'd survive just fine without it. So, what to do? The vet advised low-dose chemotherapy, and advised that it begin right away. Yes, there could be side-effects. No, this isn't a cure, it's palliative. No, he won't get better, but if it works he won't get worse for a while. Could be several weeks to several months. Yes, it's expensive. No, it's not optimal to leave him alone and unmonitored for so long right after doing this. Yes, he'll probably be fine. Yes, I need an answer today. Right now.

Ok. Do it.

I spent the next two days watching as Rascalbear started losing interest in food and water and simply huddled under a blanket, apparently showing signs of the side-effects I'd been warned about, which could cascade into an aggravation of the renal slow-down. I became almost paralyzed with fear and indecision. There was no way I could just leave him here alone, hoping he'd be the trooper he's always been and pull through. But how could I choose an animal over my family? I rarely see them, the trip's been planned for weeks, all the flights and hotels and rental cars and show tickets are bought…and it's freaking Christmas for god's sake!

Enter my husband to the rescue. Although I'd been reluctant to even suggest it, because he himself has been left behind during the past three visits as it is, he volunteered to once again stay home. Rascalbear is family, and it wasn't right to leave him here alone and sick to fend for himself while we run off to have fun in the sun. Relieved but still not feeling entirely happy with the situation, I called my mom to tell her of the change of plans.

Enter Mom to the rescue. "Well, we're all sick with bad colds right now anyway, so it's not like it'd be much of a fun visit. Better you just both stay home, avoid catching it, and take care of Rascalbear. You can come out later on when you know where things stand and it'll be better for everyone". I just about fainted with relief at being given the permission to make my sick cat my priority. Yay Mom.

No, it's still not perfect. It's not like I wasn't looking forward to seeing my mom, dad, sister and niece, not to mention an aunt and uncle who are "snowbirding" there as well right now, or unwrapping presents under the tree, or hearing the Christmas music I grew up with, or helping make dinner, or staying up too late, drinking too much, and experiencing equal parts enjoyment and frustration at the usual chaos and silliness that is a typical visit to my parents' house. I was. A lot. And now I'm upset that that's not happening.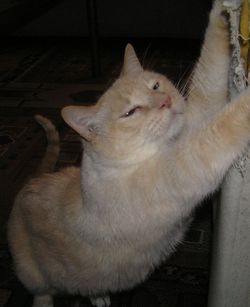 But it would've been tainted with the constant fear that another member of the family could be whisked off to the doctor for a medical emergency at any moment, and I wouldn't be there to tell him "It's ok, Bayber…you wanna come sit with Mama?" the whole way there and back, or let him hide his little face in the crook of my arm while sitting on that cold, metal counter, waiting for the doctor to come in as big dogs bark from somewhere nearby that's too close for comfort. No. I'm the Mama. That's my responsibility.

Now, I have it. There will be no stress, no fear of dehydration, and no separation anxiety (mine or his) complicating matters. And there will be no guilt. Rascalbear may be "just" a cat. But he's my cat, who comes when he's called, talks when I whistle, plays games he's invented, and kicks me out of bed when he's ready to have it to himself. He's family and he should be treated that way.

He has no idea how good he has it.

Then again…maybe he does.