Swinging Abby Part 8: The Goldfish Bowl
I didn't plan my swinging endeavor with any schedule in mind except to finish before school started. There was no looking into what was going on in the Valley during the roughly 200+ hours I planned to spend in the park. So when news of the Septemberfest trickled into my consciousness, I didn't really think much of it at first other than to wonder if I'd be able to see it from my vantage point and wishing I could go play on the rides.

But, as had happened in the past, others were thinking ahead for me. Hundreds of people would be converging on the Athens Fire Department/Boro Hall during the weekend of August 31st, and there would be no shortage of curious onlookers. I don't know whose idea it was, but next thing I knew I was segregated from the park by a yellow nylon rope. From my mom's diary:

Fireman's Septemberfest started today. Abby has been roped off so that only a few "special" friends and family can get close to her. The firemen put the rope up this AM. Lots of people visited today plus 2 newspaper reporters (Beth Weatherby, Star-Gazette and Kevin Cole, Evening Times); WSKG-TV Channel 46 and finally WATS radio.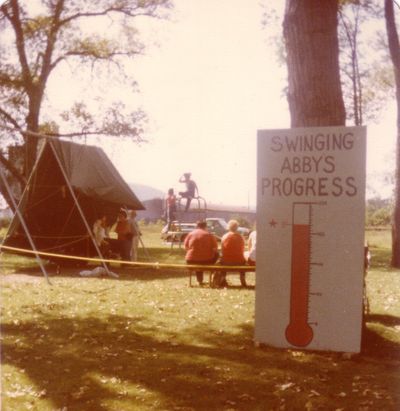 Welcome to Camp Swinging Abby!

Soon a path was worn in the grass by people lining up against the rope to see the teenager swaying under a green tarp. They would stand and stare, little kids would ask "Mommy, what's she doing?", people would smile and ask questions, and I would answer them over and over. The attention was both wonderful and terrible at the same time - there was no way to shake the "side-show freak" aura the whole thing had about it.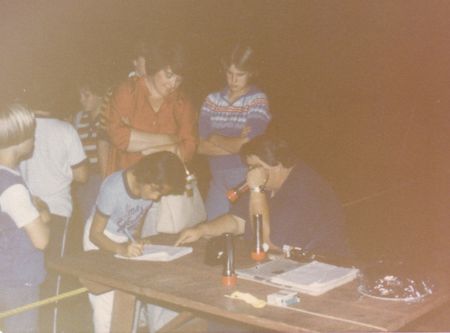 Aunt Mary Lou Rumpff manning the logbook. Sign here, please!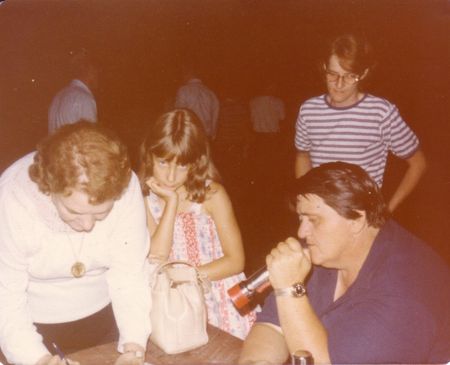 Aunt Mary Lou shedding some light on the issue. If you know any of these people, contact me!

Everything I did and said was under a microscope and there was no escape. Additionally, this was all going on when the effects of sleep-deprivation were at an all-time high! When I should have been thrilled to greet people coming to see me and sign my log book, it was often all I could do not to abandon swing and stomp off into the trailer in classic teen-angsty fashion.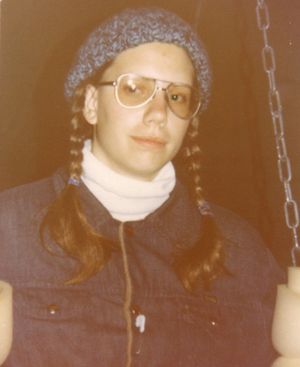 Smile Abby… "I AM!!"
(Note the duckie diaper-pin holding the jacket closed - evidence of a neurotic clothing-control issue.)

This was local fame, my first ever taste of it, and I was not at all prepared. Looking back, I think some of it may have been a feeling that perhaps I wasn't living up to what people were expecting, and that fear becoming a self-fulfilling prophecy. Or maybe I was just having a "fat day". Either way, Mom tells me I was sometimes no less than an absolute thing-that-rhymes-with-witch, and for that I must apologize to anyone reading this that was there and took the brunt of that behavior. If I could do a do-over on that aspect, I certainly would!

The Septemberfest lasted two days, eating up the last bit of energy and excitement any of us could handle, but its timing was fortuitous to allow the whole thing to end with a bang. Obviously the most common question I was now being asked was "When are you going to stop?"

When was I?
Soon...