Swinging Abby Part 6: A Captive Audience
With all the newspaper coverage those first few days on the swing, it wasn't hard to keep the visitors coming and the signatures filling the log book at regular intervals. Just a quick glance at the first notebook and I count over 100 names over the course of a single day, and that was early on in the game.
With that many people coming and going each day, it was sometimes difficult to tell apart spectators from spectacle, and I was having as much fun watching the watchers as they were watching me. Especially when they came to entertain. From my mom's diary:

08/25: Abby was serenaded for over an hour last night, approx. 1:30am - 2:45am, by five prominent Sayre residents. See book and times for names.*

08/27: Today a young man was here and played guitar and sang for Abby.**

08/29: The Statesmen, a barbershop music group, were here tonight (about 25 men) and sang to Abby for about an hour. She really liked it.

I did. Here's a picture of the guys, and myself and Dad watching.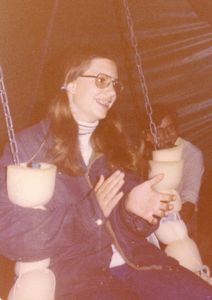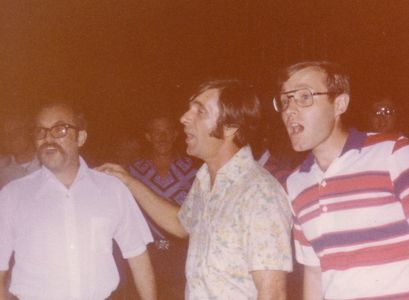 Then there were the non-entertainers, but still visitors who shook things up and made the time pass more quickly. Groups of kids would come on bicycles to see how I was doing, play on the equipment, and generally make me laugh. Two friends from school twice rode their horses to come visit. Horses! Cousins enjoying the last couple weeks of summer would come and hang out, and relatives from as far away as Allentown PA came to see me and join in the general mayhem that was my home in the park.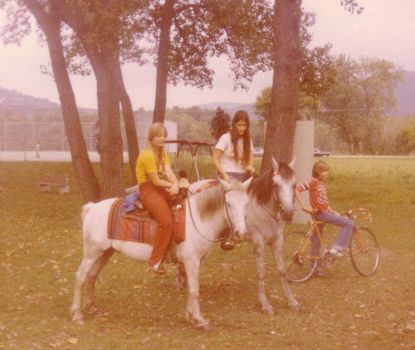 Debbie, Sam and Scott stopping by to brighten my day.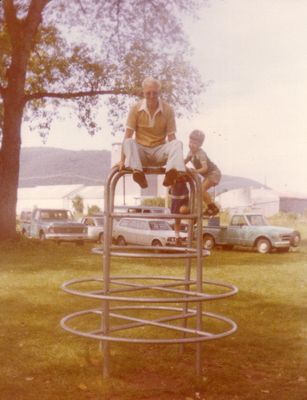 Great uncle Kenny Bryfogle, all the way from Allentown to the monkey-bars!

Late night visitors were some of the most important, when it was dark, quiet, and getting difficult to stay awake. A young man by the name of Dave often stopped by on his motorcycle well after midnight, which you must understand was unfathomably awesome to my teenage self, he being one of the nicest and most handsome guys in high school. Mentioned more than once in my memoirs, his visits were a sure-fire way to perk me up when the sandman was trying to topple me from my unstable perch. Additionally, complete strangers would visit before going to bed to see if there was anything I needed. I once asked for ice cream and found myself presented with a serving in a bowl as big as my head! All of these things, as well as my "Faithful Regulars"(more about them later) helped to break up the monotony of the sway and keep spirits up for everyone, which would become very important with the passing of that the first week, after which the real meaning of the word "endurance" would begin to rear its ugly head.

*If I'm reading the signatures correctly, they are: Tom Bernatavitz, Claude Altieri, Donald McCutcheon, Leo Wisniewski and Bob Lang.

**I believe the man's name was Kerry Hyatt, from Athens PA.