Swinging Abby Part 4: Home, Home on the Swing
Day three of the swinging saga proved to be a very busy one indeed. Besides the excitement of people bringing me newspapers to show me the articles that had been printed and various restaurants (McDonalds, Friant's, Pudgies and Park Bakery) offering in one fell swoop to completely undo my precious dieting efforts by offering fast-food heaven for breakfast, lunch and dinner, the park I had already come to think of as "home" was about to become so for real: a camper was being donated by Jim's Marine.

Yes, you read that right - a camper, for myself and my family to live in rather than waste valuable time driving to our home several miles away. And it had a toilet! You mean you didn't wonder yet where I was peeing all this time? Fortunately the Spencers, who lived across the street, had been letting me use their bathroom. It was convenient, but time consuming, even to be driven there during my breaks (because walking I was not so good at during this point in time) and I tell ya, you learn to pee REALLY FAST when every second counts! Well, none of that any more. Here's a picture of our temporary home-away-from-home. Note the sign leaning against it, just behind the bicycle - an advertisement for the business who donated.

So now I had a place to potty and sleep just a few dozen yards from my swing. If only the weather would continue to cooperate all would be well. Honestly I had not given much thought as to what I would do if it rained. Use an umbrella? Wrap myself in plastic? Quit? When you're living in the strange reality of setting an endurance record, you don't think much about such things, just trying to make it from one five-minute break 'til the next. Here I am, doing just that on day three, swinging freely in the sun with my mom Carolyn (and apparently unable to flash a peace-sign with only one hand).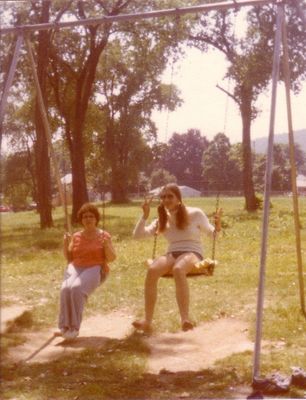 But fortunately other people whose thoughts weren't so micro-focused did think about it, and shortly after the camper arrived, the second life-saver was donated by the Athens Volunteer Fire Department: a big green tarp tenting over the swing set to keep the rain off my parade. Here I am with Mom inside my little domain.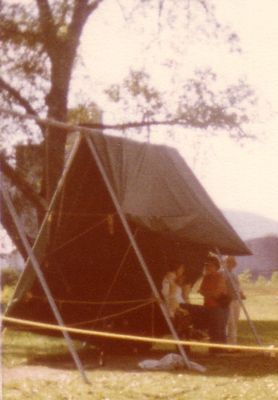 At first it felt strange to be boxed in by a tarp. It was like swinging in a closet. I had to get used to my vision being so limited. If someone came in a car, I couldn't tell who it was until they were standing right in front of me. Eventually though, the tarp-covered swing became a small home. No wonder, I was in it often enough!

Whenever I remember this crazy two-week event, it's the view from inside my tent-home that I see. No, I couldn't swing as high as I had been, but that didn't matter so long as the swing was moving. What it really did was delineate where my space was and what was allowed to go on within it, something I didn't realize at first but which became very obvious as time went on and delirium set in. In the meantime, did it work? I got my answer that very evening when a storm moved in. I wrote:

About 1:00am I had the opportunity to see how well that tarp really worked: so-so was the answer. The water on the ground kept running in and forming a pond under me! The first experience of a rain storm was fun though. Something different, anyway.

Fun. That was a word to be used with caution. I would soon find out that many things about this endeavor were decidedly not going to be fun. I had already met my enemies Cold and Damp. The next two were just around the corner.