Swinging Abby Part 3: Fame and Freebies
There are some things for which you make plans then don't do, then there are things you do without a plan. How much planning is needed, after all, to sit on a swing? You just do it, right? Well, no you don't. But we didn't realize that when my teen angst-filled whines of "But you never let me do anything!" caused my mom to give into my crazy idea (or so she tells me - so now you know the rest of that story!) Fortunately, others did realize it. Especially once word got out.

And word got out pretty darn quickly. We had contacted one local newspaper, The Evening Times, the day I began (mainly to have an official witness) and in no time the battle among the press to get the scoop began. Next thing I know, I'm being interviewed by people from no less than three newspapers, with updates published almost daily. Here's the first two installments of the breaking news (they both kind of say the same thing so I won't repeat the text).
The Evening Times, front page August 22, 1979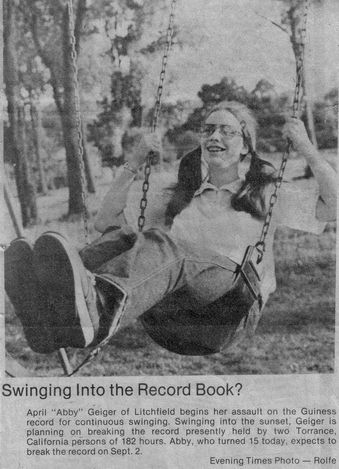 The Star Gazette, front page August 23, 1979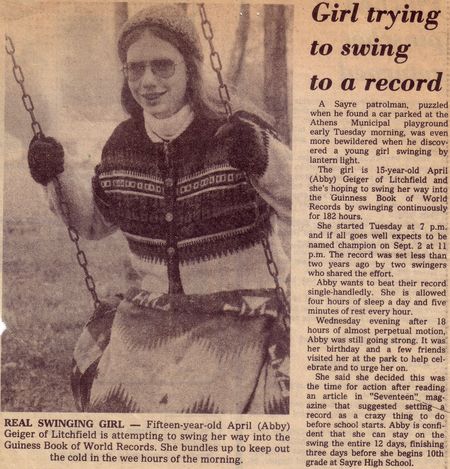 The effect was immediate. On day three, people began coming to the park in car-loads, and what had been a concern that there would not be enough witnesses to keep the log book properly updated turned into a concern that they would get tired of waiting in line and leave before signing. (While Guinness was then very tight-lipped about their requirements and would not send a representative, they did say we needed an ongoing record of witnesses. I racked up 2,493 signatures before it was over.)

Additionally, it seemed every business in town wanted to get in on the game by offering freebies. I would gain some new t-shirts and never have to worry where my next meal was coming from. Everyone wanted to be the first to feed me, and make sure the fact that they had done so was mentioned in my interviews.

So, the game was on. I was holding up well, still raring to go, and the entire Susquehanna Valley was rallying behind me. There was no turning back. But some of the biggest and best was yet to come!