Alexander Maxwell Stearns
November 6th, 2013 was a pretty normal day. I worked, I worked out, then I rushed off to choir rehearsal. Afterwards, I hurried home, tired and hungry. Then I walked in the door and the normalcy ended, as I was told and old friend had called and that I should call him back. "Why, what's up?" I asked. This friend doesn't often call just to chat. The answer I got stopped me in my tracks.

"Alex is dead."

I don't remember my initial thoughts. Hell, it was five months ago already. But I do know I grabbed the phone and punched in the number, and within moments the statement was confirmed. Names hadn't yet been released, but police had responded to a "shots fired" call around 4pm Sunday, November 3rd, and arrived to find a married couple dead in the yard. The police article showed only a front view of the house; the house the friend recognized because he'd lived there as a guest for several months. We didn't need the names. We knew.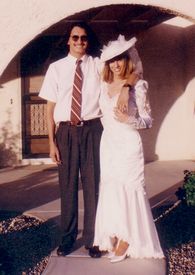 I won't go into the gory details. Suffice to say this was an unplanned murder/suicide, as nothing in the investigation yielded a shred of evidence pointing to anything other than it likely being an altercation that got fatally out of hand. But my first thought was "That could've been me". My second thought was "What a goddamn shame".**

Alexander Maxwell Stearns was my first husband, married to in 1994 and divorced from in 1998. A "practice marriage" as I've heard it called, it yielded no kids, no house, and no regrets. To say it was a rocky relationship is putting it so mildly it's beyond cliché; it was more like a thundering avalanche of flaming granite interspersed with naval mines and broken glass. How do two people who produce that much fire and friction find attraction and enjoyment?

They play in a band together, duh.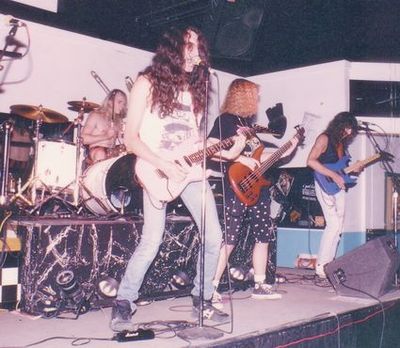 Alex was the singer/songwriter/lyricist for his hard rock band called Ravenwolf. Together with his friend Bruce Irvan, he crafted many memorable and poignant songs that covered topics from corporate corruption to endangered falcons, with odes to hit men, wizards, social estrangement in between. (I've no idea why the song titles are so odd—I think it's something he did shortly before he died.) For the second time in my life, a man I loved took me not only into his heart but also into his band, and allowed me to be a part of the family that serious, struggling musicians become. And in doing so, he forced me to stretch my talent beyond what I'd never been capable of doing: writing music. Or, at least writing original bass lines to go with original music, something I'd never done before. Even when playing original songs in bands (as opposed to 'cover tunes'), I was provided with tapes of the previous bassist's work. A note change here, a little sense of flair there, and I made it my own. But that's a far cry from sitting with talented guitarists and writing an accompanying bass line that suits the song. To be honest, I don't think the things I came up with were that great. But Alex and Bruce loved my work, and that's all that mattered. Especially when we got up on stage and played songs written from the heart to people who hadn't a clue how much blood, sweat, and beers that takes.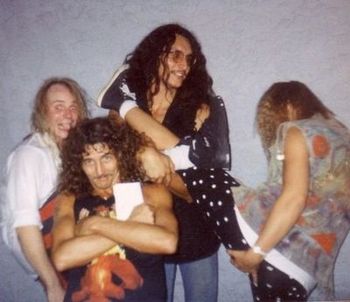 Quitting the band when the marriage dissolved (he even wrote a song about the breakup) was one of the hardest things I've ever had to do as a musician, but I knew it was for the best. Alex proved me right by continuing to write, record, and perform. Doubt would occasionally set in, and he'd call for a pep talk, which I always gave. I never wanted to see Alex's dream turn to failure, even if I couldn't be part of it. He was an extremely talented musician.

But we all have our demons, and I know his loomed larger than most. There is no help for that. There's only understanding. So I do. But it's a bitch to now have to put him on the list of amazing musicians I've had the opportunity to work with over the years, who are no longer here to appreciate the accolades I should have much-sooner rained down upon them. And it's even more of a bitch to know that as I progress with my own re-discovered musicianship, there's no one to share it with who knows more than anyone how much I also struggle the self-doubt that accompanies such a challenge.

In short, I think what I will miss most is something I should have appreciated more of when it was there, something that too much life and too many demons got in the way of: the company of a musician who put his heart, guts, and life into music. He may have been my husband, but he was more so a kindred, spontaneous spirit that I didn't want to recognize in myself, terrified that if we both went off the rails toward fame, we'd achieve neither that, nor lunch for that matter. I've learned to avoid the "what if" question whenever I listen to our music. But I'll continue to appreciate it as a gift from a man who had a no-holds-barred attitude towards songwriting, something I wish the rest of the world would have had a chance to recognize.

Rest in peace, Alex. I'm sorry you weren't able to rise above the pettiness of life, or the stranglehold of your personal demons, in order to fly like the free bird you were meant to be. You brought me joy, despair, frustration, and euphoria. And now you bring me tears. So, in the tradition of your Sioux heritage, I say: I hope it was a good day to die.

** With regards to the sensitivities of the family of Sherri Gessendorf, I say I am deeply sorry for your loss. We had only met once, and I wish geography had allowed me to know her better.