Writing Keeps Me Sane
I recently discovered something. Writing keeps me sane. Despite its complicated rules—and the difficulty of learning, remembering, and applying them—weaving this complicated tale of betrayal, love, thirst for power, and a desire to smash long-held traditions often keeps me from screaming in frustration at real life.

It makes sense, considering that's how the whole thing began. I was far from home, staying in a hotel with my mom, while my dad lay in the hospital across the street recovering from triple-bypass surgery. I'm a stickler for routine and don't handle emotional family issues very well, so it's no surprise that when I couldn't sleep one night, I conjured up something to entertain myself. A woman in a cage in a vehicle's cargo hold. A man she doesn't know gets thrown into the dingy room with her and is also caged. He manages to escape the cage, and helps her do the same. When the vehicle stops, they attack one of the crew and make a run for it.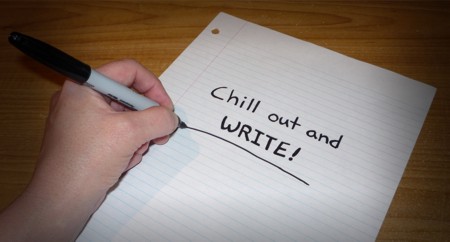 *POOF * The beginning of Fate's Apology was born. I found myself replaying the scene over and over, adding details, trying to come up with names, and wondering: who is this woman and what is it they want with this man?

The story is never far from my mind. It keeps me up at night and lulls me to sleep at my computer. It's eaten up countless hours, taught me about things I never would have otherwise researched, and helped me make new friends. It's also helped keep me calm during those times when I would normally be pacing like a caged tiger. That's because whenever I find myself stuck somewhere waiting—at the doctor's office, in the car, on a plane, waiting for a ride, or having a bout of insomnia—I always, always have something to do to pass the time. I often get more writing done during these unanticipated moments of forced free time than I do when I sit down to whip out the next thousand words.

Thursday was no exception. The power went out at work. With a reassurance from the power company that it would be only an hour or so, we stayed and waited. And waited. And waited, as each new hour brought the same reassurance. While co-workers milled around outside, soaking up some sun, chatting, and getting antsy to either get back to work or go home, I sat in the dimness of the emergency lighting, calmly scribbling away on scrap paper. Sure, I wanted to go home too. But rather than pulling my hair out in frustration while being bored and watching the clock, I did what I'd be doing if I were home anyway: working on Fate's Apology. In the end, we were allowed to leave, as the power company seemed to have no clue when we'd get juice again. But during the wait, I wrote an entire scene and mentally plotted the details of what was to happen next. I left not annoyed that I'd spent most of my morning trapped at work with no work to do, but happy to have had the enforced downtime to write, unfettered and undistracted. And on the clock. How on earth can you beat that?

So, in a way it's a good thing I'm not to the end of the story yet, because sanity is nice. I even have a second story bubbling in the brainmeats, so the sanity will continue. People close to me will be happy to hear that, I'm sure. Now... except for those times when my characters drive me nuts… But, that's a whole other blog!