He's not called "His Royal Hineyness" for nothing!
I came home the other night and had totally planned to work out. You know, because I've been doing so well on my resolution and all, although the jeans don't seem too impressed. Nevertheless, I was gung-ho adamant that before I started making that spaghetti dinner I would spend at least a half-hour on the excercise bike. I had my shoes and my water in hand.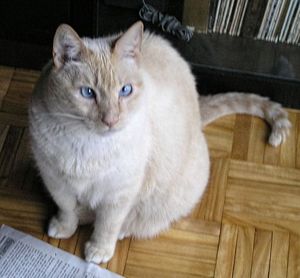 And then it happened. Rascalbear came downstairs to greet me.

He squawked and paced, and looked up at me with those big blue crossed eyes. And I sat on the stairs and let him show me his belly, and I rubbed his little head, and listened his big, sloppy, motor-boat purr, and I knew the bike would have to live without me.

Because Rascalbear cannot.

It's been almost two months since I got the diagnoses: cancer, with a poor prognosis. Rascalbear had his third chemo treatment nearly two weeks ago. This time we tried a new drug - Carboplatin - because after two doses of Mitoxantrone, not only did his three tumors not shrink, he picked up a fourth (a little subcutaneous bump on the side of his nose). It's too soon to know if this one is slowing the spread, but for sure it's doing a number on his appetite and energy. Enter a new drug - Mirtazapine - to stimulate his appetite. Wow. And I thought his pain-killer - Tramadol - made him a wackadoodle. Ok, I exaggerate, but in reality that's what both these drugs do: exaggerate his normal gregarious and noisy personality. That was fine with me. It's not right to have a Siamese cat that doesn't demand attention and vocalize every thought inside his furry little head! And the drugs do seem to have helped. The food disappears out of the bowl, and I celebrate every morning upon seeing poos and pees in the litter box. This is a good thing!

The bad thing is watching him age before my eyes, despite my best efforts to keep him healthy and happy. Oh, he still has a good quality of life. I'm the one going "Be careful, slow down!" when he tries to barrel down the stairs like his fat old self. But I see it creeping in: that point of no return. He's never going to gain back an ounce of weight, no matter how much he eats. He's never going to run the length of the house again. Soon, he'll likely not even trot it, like he can still do when he's 'in a mood' and full of beans.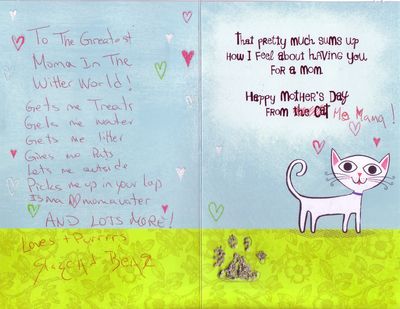 Because of being hyper-sensative to his condition due to the constant monitoring, strange things have started happening with me. I often see him out of the corner of my eye, and freeze when I hear his squawk. Then I check, and he's fast asleep. I've already - due to a power outage at work on the same day as his biopsy vet visit - come home to a house devoid of his presence, and it felt like cold, ghostly fingers of the future clawing at me. There was an eerie silence in the house, a silence that is usually there during the day, but I knew, KNEW, it wasn't because he was napping, but because he wasn't there at all. And I didn't like it. Not one bit.

So, whenever His Royal Hineyness asks, he gets me, one-hundred percent, every time. He's doing it right now. He's having a not-so-great day, I think, and just wants to be close, so he's commandeered my lap, making it difficult to sit comfortably and write. But that's ok. It has to be. Every moment counts when every moment is being counted, hoping they continue as long as possible. How long will that be? I don't know, but I'd really like to get another Mama's Day card from my cat. Yes, we do that here. And I love them dearly. The thought of not getting one this year makes my throat close up, but I know hoping for it is a long shot.

So from now on, for Rascalbear, every day is Mama's Day. And for me, every day is his, even if it means putting aside the other things I need/want/love to do. They'll still be there for me long after he's gone. He's only here right now. And really, who wants to work out anyway? Feh.