My Heart-Shaped Rascalbear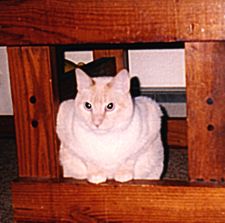 Several years ago, I had a set of end tables that Rascalbear liked to perch beneath, propping his front legs on the cross-piece and looking out over his domain. Like so many things he did, I had a name for this. It was called 'Heart-Shaped Rascalbear', because of the the way his feet, legs, and elbows framed his fuzzy little head. As they didn't fit into our new living room when we moved, I no longer have the tables, and after I got rid of them it was rather a bummer that I didn't see Heart-Shaped Rascalbear anymore.

Until now. Now, every day Rascalbear is heart-shaped. Because that is where he lives: in my heart, filling it with his funny, fuzzy, sucktapuss little kittenhead presence.

Two weeks ago, after posting my blog about cherishing each hour, I honestly didn't realize how poignant that was. I knew Rascalbear's condition had once more taken a turn for the worse. They came in waves; little milestones that said 'now we're in a new phase of illness that he won't come back from'. But I never imagined that he would be gone in less than 48 hours. I also never imagined that I'd be fortunate enough to get sick overnight, allowing me to stay home in bed with him for his final day. I cannot thank fate enough for handing that to me. We were like two little peas in a pod, rousing only long enough to eat and take a short trip outside, during which Rascalbear eschewed his little grass patch in order to sit close to me. He was like a little Mama-magnet. Now I know why.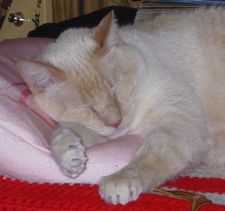 Around 1:30am, Rascalbear - sleeping next to me in bed as he had been for several nights, so I could make sure he ate and used the litter box - woke me up, struggling mightily to stand. Already having had trouble walking earlier in the day, his right legs now no longer worked properly, as though they could no longer bear the diminutive weight of his fragile little body. He was otherwise lucid and seemed to have only intermittent discomfort, so although I was horrified by this sudden turn of events, I decided against moving him for a trip to the ER vet service. Instead, we simply lay with him: petting, calming, comforting, talking, singing, and crying, until our local vet - Pierrefonds Animal Hospital - opened at 7:00am. Then we made the call.

And waited.

Never in my life have I waited for something that, on one hand, didn't seem like it could happen quickly enough, and on the other, was something that I didn't want to happen at all. I don't remember the details. It's just a blur of of Mama-speak, Rascalbear songs, and contradictory thoughts interspersed with a zillion kisses on his fuzzy little head. Please hurry. No, don't. This is it. This can't be it. Can it? At least we're here. Together. You're not alone. I'm not alone. I'm so glad you won't die alone. Please don't cry. Please, me, don't cry. No, now's the time to cry. For all of us. Cry. Breathe. Live.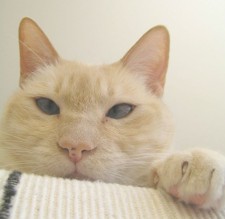 Finally, our vet friend arrived. A tough little trooper to the very end, my sweet little Rascalbear - my cat, friend, playmate, companion, stress-reliever, sometimes stress-creator, chatty little funny fuzzy Dumplin-Loaf - was put peacefully to sleep at home, in our bed, around 10:40am on Tuesday, April 30th.

He was seventeen years old.

Our original plans to bury him next to his 'big brother' Q-Bert stymied by lingering knee-deep snow and spring run-off saturated soil (we really tried, but I simply could not put him into a hole full of muddy water), we submitted him to Pet Friends for private cremation. I may get used to having his sparkly little pink urn on the stand next to my spot on the couch, so whether we do a burial is up in the air right now. I will decide on that later, when getting to the remote, forest-covered spot is a reality to be faced once more. As it were, the unforeseen problems with the burial situation actually gave rise to a smile in that that Rascalbear was being like a bad penny - he just kept coming back to me. We couldn't bury him, so he remained with me for the long drive back home. We then took him to the vet for pickup by the cremation service and said our goodbyes, but when we called Pet Friends afterwards to make the arrangements, we were told they'd stay open and wait so we could just bring him in. So I went in and retrieved him, then took him to the service for yet more goodbyes. In the end, it worked out for the best, as I didn't know they had little 'viewing rooms' for pet funerals and such. Seeing my little Dumplin lying all comfy-like with a little blanky in a little basket is a good last memory to have of his physical presence.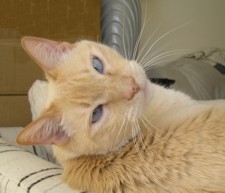 In the meantime, it's hard. Really hard. Today is Mother's Day, and I did receive a card. It was purchased several weeks ago, and the message inside is like a purr from the past. I laughed. I cried. There are no words for how much I miss him. No words for how empty the house is. Nor how quiet, which is something I thought I'd already gotten used to, since in his illness he wasn't nearly as vocal as he'd been his whole life. But I realize now it wasn't just him making all the noise. It was us. Me. It's amazing how much I laughed at him, talked to him, and most of all, sang to him. He loved it. Now, there is no one there for these things. But, sometimes I do it anyway. It helps. It helps me to sing to my Heart-Shaped Rascalbear. Because now he's the only one I have.